Marie Laurencin was born in Paris in either 1883 or 1885 (sources differ). She was the illegitimate daughter of Pauline Laurencin and Alfred Toulet, though she would not learn her father's identity officially until she was 22, eight years after his death.

Apart from evening classes in drawing, Laurencin was self-taught as an artist. Around 1902-03, she studied porcelain painting at the Sèvres factory. She later entered the Académie Humbert, where she met Georges Braque and Georges Lepape.

In 1907 she exhibited at Clovis Sagot's gallery in Montmartre. There, Pablo Picasso introduced her to Guillaume Apollinaire—known as "the Founding Father of Surrealism"—with whom she would be romantically involved until 1913.



Apollinaire

Throughout the course of their relationship, both would serve as a source of artistic inspiration for the other. In 1909 they posed for Henri Rousseau's painting "The Muse Inspiring the Poet."



Henri Rousseau, "The Muse Inspiring the Poet"

Laurencin inspired some of Apollinaire's most famous poems, including "Le Pont Mirabeau," a reflection of lost love, and "Le poète assassiné," in which she appears in the guise of Tristouse Ballerinette. Through her relationship with Apollinaire, Laurencin joined the circle of artists and writers who met frequently at the Cloiserie des Lilas café and in Picasso's Montmartre studio, where she met Fernande Olivier, Max Jacob, André Salmon, Maurice Raynal, Maurice Cremnitz, Gertrude Stein, and André Derain.



Guillaume Apollinaire, André Billy, and Marie Laurencin

Laurencin was introduced to a run-down apartment called "le Bateau-Lavoir" which served as a hangout for poor progressive artists. It was there that she spent a legendary youth with Picasso and Apollinaire and the composers and artists who became "Les Six".

Gertrude Stein purchased the first painting Laurencin ever sold as a professional artist: "Group of Artists" (1909), which is a group portrait of Laurencin, Apollinaire, Picasso and his mistress, Fernande Olivier.




Although surrounded by Cubist painters, Laurencin created her own style of pale, airy works. Principally watercolors and pastels, they depict black-eyed faintly melancholy women-surrounded by gauzy veils, feathers, and flowers—who look vaguely out at the world.



"Woman with a Dog" by Marie Laurencin

Apollinaire used his prominence as an art critic to promote her work and in his 1913 treatise, "Les peintres cubistes: Méditations esthétiques," he classified her as a "scientific cubist," although her style bore little resemblance to the work of other Cubists.

One can detect several different stages in Laurencin's work over the years; yet permeating all her work are the sensitivity of an exceptionally perceptive woman and a lyricism tinged with angst. The pastel tones of rose, purple, blue and gray evince a glimmer of intelligence and the existence of a cautiously hinted sensuality that create a soft and serene atmosphere, as if the entire scene were covered with a veil of mystery.



"Tre ragazzine e due cani," by Marie Laurencin

Of her choice of subjects, she said: "Why should I paint dead fish, onions and beer glasses? Girls are so much prettier."

Laurencin was very near-sighted, and this weakness may have caused her to omit details in her paintings.

Though Laurencin was a member of the artistic movement that would change the very currents of early twentieth century art, such as Fauvism and cubism, she went on to develop her own distinctive aesthetic world.



"Two Young Girls in a Landscape" by Marie Laurencin

In 1911 Laurencin exhibited "Portrait of Mme Fernande X and Young Girls" with the Cubists in Gallery 41 in the Salon des Indépendants. Laurencin also created the illustrations for the book "Un Petit brévaire d'amour." The first such artistic venture, she would later go on to illustrate more than eighty books.



Self Portrait, Marie Laurencin

Laurencin's self-portrait, in prose, reads:
"Loves luxury, very proud of being born in Paris.
Knows all the songs from 'Sylvie.' Dislikes speeches,
scoldings, advice, and compliments. Eats fast,
walks fast. Paints very slowly."

Laurencin's relationship with Apollinaire ended in 1913, signaling the end of her Cubist-inspired period. Laurencin's mother died the same year.

Laurencin established a contract with the prominent art dealer Paul Rosenberg, who also handled Matisse, Picasso, and Braque. Their contract would last until 1940. A book of Apollinaire's poems is also published in 1913, with several poems referring to Laurencin.

In 1914, in Paris, she married the aristocratic German painter Otto von Waetjen, and while on their honeymoon, France declared war on Germany. Laurencin, who was technically a German by virtue of her marriage, escaped across the border into Spain, spending time in Madrid and Barcelona, a city where many of the exiled artists settled.



Marie Laurencin on a beach in Barcelona.

Laurencin missed Paris, feeling very isolated and depressed during this long period of time she spent in Spain, and poems she published in 1926, titled "Petit bestiaire," express her sadness.

She divorced her husband in 1920 and returned to Paris, where she began a successful career as a designer providing illustrations for many books, including a deluxe edition of Lewis Carroll's "Alice in Wonderland," published in Paris in 1930.



Lithograph from Alice in Wonderland

Laurencin designed the sets and costumes for the 1924 Ballets Russes presentation of "Les Biches," produced by Serge Diaghilev.



Costume design for "Les Biches"

Laurencin also designed wallpaper and textile patterns for the Art Deco designer André Groult, who often hung her pictures in the rooms he decorated. In addition, she collaborated on dress designs.

When Laurencin was working on the costumes and sets for "Les Biches," Coco Chanel was creating costumes for the same company's Le Train Bleu. Chanel asked the artist to paint her portrait. Laurencin painted Chanel in a languid pose draped in blue and black with one shoulder bare.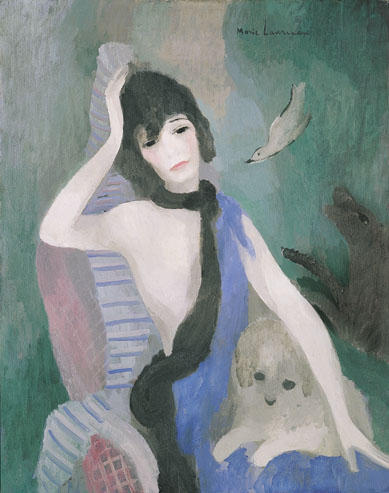 Coco Chanel, by Marie Laurencin

The fluid lines, subtly shifting colours and the sitter's dreamy expression are typical of Laurencin's work, but Chanel turned the painting down, saying it did not look like her.

Nevertheless, Laurencin was a social celebrity and her portraits of society women were much in demand.



Marie Laurencin

In 1921 she returned from exile to Paris, marking the beginning of an intense period of artistic creativity.

In 1925, Laurencin took responsibility for raising and educating Suzanne Moreau, the young daughter of one of her maids, and in 1954, she officially adopted Suzanne as her daughter.



Marie Laurencin in 1949.

In 1956 Laurencin died in her Paris apartment. She was buried, according to her wishes, dressed in white with a rose in one hand and Apollinaire's love letters by her heart. She is buried in the cemetery Père-Lachaise. Although she complained of ill health for many years, she lived into her seventies, happy with her books, her small house in the Forest of Senart, and the success that brought her luxury.


Marie Laurencin