"the fierce and bloody Tina Modotti"






Tina Modotti was born in Italy in 1896. In her teens she began acting on the Italian stage, and when her family moved to San Francisco, and then Hollywood, Modotti launced a successful, if brief, career as a actress in silent films.



Modotti in an early film role

Modotti married poet and painter Roubaix (Robo) de l'Abrie Richey in 1917 and continued working as an actress. Their home was a gathering place for bohemian artists, including Edward Weston, who taught the art of photography to Modotti. The two met in California while she was working on a film and, though both were married to other people, began an affair.



Edward Weston with his Graflex Camera, Mexico, Photo by Tina Modotti

Richey died on February 9, 1922, of smallpox, and that same year Modotti and Weston traveled to Mexico to set up a home and studio. They worked together regularly from 1922 to 1930 in San Francisco and in Mexico, where they had a successful portrait business.



Photo of Tina Modotti by Edward Weston

During this time Modotti met several political radicals and Communists, including three Mexican Communist Party officials who would all eventually become romantically linked with her: Xavier Guerrero, Julio Antonio Mella, and Vittorio Vidali. Her contact with Mexico's muralists included a brief affair with Diego Rivera and led to her involvement in radical politics.



Drawing of Tina Modotti by Diego Rivera

Turning her camera to record Mexico in its most vibrant years, Modotti's photographs achieve a striking synthesis of artistic form and social content.




Her silver gelatin prints of people, architecture and still lifes reveal an acute personal vision. Modotti's modernism echoes the purposeful clarity of the Bauhaus. The intriguing pictures are lucid arrangements of space.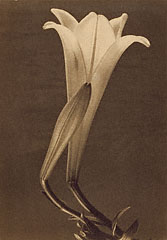 Modotti's work combines a sophisticated sense of design with socially and politically oriented subject matter. Her images of the Mexican working classes and Mexican artifacts became powerful revolutionary emblems.




Mexico was emerging from its bloody 10-year revolution and was fashioning its rebirth. Modotti and Weston soon became part of the avant-garde and counted leading artists and writers—including Diego Rivera, Miguel Covarrubias, Jean Charlot and David Alfaro Siqueiros—among their friends.



"Femme fatale in Bildern," portrait of Tina Modotti by Diego Rivera, 1927

Weston returned to his wife and children in California in 1926, but Modotti chose to stay. She established a studio and earned a fine reputation as a photographer. Around this time she began an affair with Julio Mella, the exiled Cuban communist revolutionary.



Photograph of Julio Mella by Tina Modotti

On the evening of January 10, 1929, two gunshots were fired at Julio Mella while he was walking with Modotti to their apartment. She was unharmed but Mella was taken to the hospital, where he died. Tina ended up giving the police two different stories about how Mella was shot, which made them suspicious. The Mexican newspapers soon gave her the title "the fierce and bloody Tina Modotti." In the end, no murderer was ever found.




By December 1929, an exhibition of Tina Modotti's work was billed as "The First Revolutionary Photographic Exhibition In Mexico." She had reached the zenith of her career as a photographer. Within a year she was to put her camera aside when she was deported from Mexico and, with only a few exceptions, was not to pick it up again in the dozen years that remained to her.




In February 1929, six shots were fired at the president of Mexico, though he was not killed. Tina Modotti was arrested for having been part of the attempt, even though the real murderer was eventually found. [It was rumored that Tina was actually planning the murder but the other guy beat her to it.]

Modotti was eventually forced to leave Mexico. The government had kept her under surveillance for her highly public and personal connections to the international Communist party and its leaders, and in 1930 she was deported.

When Modotti had to choose between art and devotion to the communist cause, she chose the cause. "I cannot solve the problem of life by losing myself in the problem of art," she wrote.




Modotti traveled from country to country with Vidali, finally settling in Moscow where, by most accounts, she joined a branch of the Soviet secret police. During the next few years she engaged in various secretive missions of the behalf of the Russians in France and Eastern Europe. When the Spanish Civil War erupted in 1936, Vidali (then known as "Comandante Carlos") and Modotti (using the pseudonym "Maria") left Moscow for Spain, where they stayed and worked until 1939. There Modotti worked with the famed Canadian doctor Norman Bethune (who would later invent the mobile blood unit) in 1937. In 1939, following the collapse of the Republican movement in Spain, Modotti left Spain with Vidali and returned to Mexico under a pseudonym.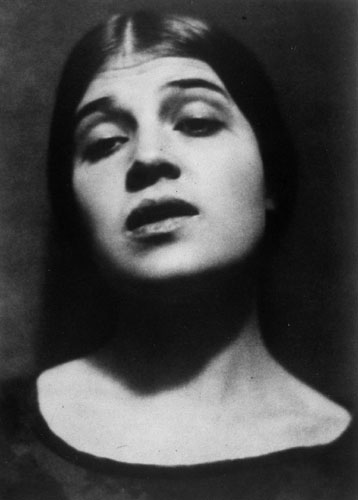 There, in 1942, while traveling in a taxi after attending a get together at a friend's home, she died. It is rumored that she was poisoned, but it is also said that she died of heart failure. After hearing about her death, Diego Rivera suggested that Vidali had orchestrated it because she "knew too much" about his activities, which included a rumored 400 executions.




Her grave is located within the vast Panteón de Dolores in Mexico City. Poet Pablo Neruda composed Tina Modotti's epitaph, part of which can also be found on her tombstone:

Pure your gentle name, pure your fragile life,
bees, shadows, fire, snow, silence and foam,
combined with steel and wire and
pollen to make up your firm
and delicate being.

Modotti's work has received attention after a long period of neglect. Her photographs were included in the Women of Photography touring exhibition of 1975, and she was the subject of a two-woman show with the painter Frida Kahlo in 1982-1983 in London and New York City. She has been honored by one-woman shows at the Museum of Modern Art in New York City (1977), Festival Internazionale delle Donne in Arezzo, Italy (1978), and the Museum of Fine Arts in Lodz, Poland (1980).