"This face was borne aloft on a long white neck,
the sturdy, swan-like neck of the medium—
and of the lost and the damned."






Little is known about June Miller, the muse and lover of writers Henry Miller and Anais Nin, and most of what is known comes filtered through their words. She is described variously as "precocious and romantic," "intense and sexual," "frail and pretentious."

She was born June Edith Smith, third daughter of Wilhelm and Francis Budd Smerth, who modified their Austrian last name when they arrived in the United States and settled in Brooklyn, New York, in 1907.

In 1917 June dropped out of high school and became a taxi dancer in a Manhattan dance hall, where Miller met her in the summer of 1923. Miller wrote about the first time he saw June there:



"I notice her coming towards me; she is coming with sails spread, the large full face beautifully blanced on the long, columnar neck...The whole being was concentrated in the face. I could have taken just the head and walked home with it; I could have put it beside me at night on a pillow, and made love to it. The mouth and the eyes, when they opened up, the whole being glowed from them...The smile was so painfully swift and fleeting that it was like the flash of a knife. This smile, this face, was borne aloft on a long white neck, the sturdy, swan-like neck of the medium—and of the lost and the damned."



Miller at that time was an unhappily married man (and a father) and a disgruntled employee of Western Union. The following year, Miller divorced his first wife and on June 1, 1924, married June in Hoboken, New Jersey.

June encouraged Miller in his writing aspirations. Their relationship inspired his early novels "Moloch" and "Crazy Cock" (the latter published in 1991 posthumously). June worked occasionally as a waiter, but her restless lifestyle, which first had fascinated Miller, made him miserable.



Henry Miller

The marriage was characterized by numerous moves, increasing financial desperation, and a variety of psychodramas. One example is June's apparent affair with a young woman, Jean Kronski, a 21-year-old artist she befriended in 1926 and who came to live with Henry and June for a time in one of their New York City apartments. June and Jean left Henry and visited Paris together in April 1927. June returned to Henry in July, apparently after she and Jean had quarreled and broken off the relationship.

In 1928 June and Henry went on a tour of Europe using money secured from one of June's admirers. After returning to the United States, Miller, desperate and disillusioned with his writing, returned to France in 1930.

In late 1931, writer and diarist Anais Nin met the struggling American writer through a mutual friend in Paris. They immediately became close confidants. Miller complained to Nin about the mysterious nature of June, who was due to visit him soon. She had paid his way to Paris with the pretense of supporting him as a writer, though he sensed that she was really doing it to get him out of her way.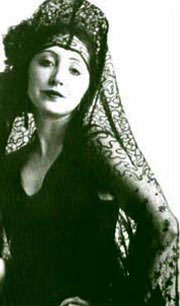 Anais Nin

At the time Miller was working on "Tropic Cancer," which included a character, Mona, who was based on June. Nin finally met June in December 30, 1931. Nin, who had been happily married for nine years at that point, felt intensely drawn to June, as she wrote in her diary. "I saw for the first time the most beautiful woman on earth."

However, she also found June mysterious, claiming that "by the end of the evening I felt as Henry did, fascinated with her face and body which promises so much, but hating her invented self which hides the true one."



June Miller

The two women had an instant attraction and became lovers over the next few weeks, until June left Paris to return to New York. During that time, Nin's fascination with her increased and their intimacy made her feel bonded to the real woman Miller could not see.

In describing the bond, she wrote: "What a secret language we talk. Undertones, overtones, nuances, abstractions, symbols."

Once June had left, Nin and Miller continued to discuss her intensely, both in letters and conversation. They soon became lovers, two companions joined in fascination for the same person.

More importantly, in her absence June served as a muse to both writers: she inspired Nin's "House of Incest," and Miller completed the June-inspired "Tropic of Cancer." Nin, though supportive of Miller's work, noted the contrast in their views of June: "Each time Henry describes June in his language, he fails to make her portrait. Elusive, voluptuous, mysterious June."



Maria de Medeiros as Anais Nin and Uma Thurman as June Miller in the film "Henry and June"

When June read Miller's manuscript of "Tropic of Cancer," she complained bitterly to Nin that he had misrepresented her—that it was he, not she, who was delusional.

However, June would eventually reject both authors' visions of her. Feeling betrayed and misunderstood, June soon left both Miller and Nin for good, though she continued to be a subject of interest for both writers for years to come.

After asking Henry for a divorce, June left Paris in December 1932. They were divorced by proxy in Mexico in 1934.

Little is known about June Miller's life after her marriage to Henry. She married and divorced a military officer and worked as a social worker in Queens, New York. She was alive and living in New York City as recently as 1969.

Supposedly, June saw Henry one more time. In 1960, he visited her on a trip to New York, according to June's biographer. At that time she was "ill and destitute...a withered fragment of the [once] powerful woman who had dominated [Miller's] lifelong writing."