"the greatest woman spy"






Mata Hari was the most renowned woman in spy history—although she may not have been one.

Born in Holland as Magaretha Gertrud Zelle to a well-to-do Dutch shopkeeper and his Javanese wife, she attended a school for teachers but was forced to leave for having sex with the headmaster.

At age 18, she answered a personal ad in a newspaper placed by a Dutch army officer who was looking for a wife. Shortly after meeting Captain Rudolf Macleod, 20 years her senior, she married him. Macleod soon proved a less than perfect husband, flaunting his dalliances before his young, pregnant wife. Margaretha put up with his conduct but not so the family of one of the female servants he'd supposedly raped. They poisoned the couple's eldest child and he subsequently died.

After the death of their son, the Macleods returned to Holland and were soon divorced. With money received from the settlement, Margaretha left her surviving child, a daughter, with relatives and set out for Paris, determined to make her mark in the world.




She tried modeling for painters and instructing at a riding school but barely made ends meet. She decided to try her luck at dancing. All things Oriental happened to be in vogue during the early 1900s, so she embellished her experiences in Java, not to mention her own heritage, and prepared for her first show. She had little trouble convincing her audience that she was half Hindu, half British nobility and had been trained as a Ganges temple dancer. Her tall, lithe body, dark coloring, and natural beauty lent themselves well to her subterfuge as she appeared before her small salon audience clad only in an assortment of colored veils and a metal brassiere of her own creation.




Wealthy businessman Emile Guimet wasted little time inviting Margaretha to dance at his Museum of Oriental Art. Using the stage name "Mata Hari," she made her official debut. Guimet transformed an upper floor of his museum to accommodate Mata Hari's act, a sinuous and provocative dance of supplication before the six-limbed statue of the Hindu god, Siva. Guimet even provided a pseudo-jungle environment to make the setting seem even more real. After her seductive performance on March 13, 1905, Mata Hari became an instant sensation.




Over the next few years Mata Hari danced her dance of the veils in salons, music halls, and theatres all over Europe—Monte Carlo, Madrid, Berlin, Vienna, and Cairo were just a few of the cities where she attracted huge crowds. Men fell at her feet wherever she went and would promise her anything for a glance or a favor. Mata Hari danced her way into the bedrooms and hearts of countless well-to-do lovers, many of them with royal connections, including Germany's Crown Prince Willem and later his son. She also had liaisons with leaders in the political and military arenas.

During her heyday she was considered to be one of the most beautiful and seductive women in the world. Thousands flocked to see her perform her "Dance of Love" at show halls all over Paris.




While she lived with a succession of wealthy men, she also made several fruitless attempts to contact her daughter Non. Her letters were returned unopened by MacLeod. The desperate mother hatched a plan to kidnap Non, who was then thirteen, but the plan ultimately failed.

Her performances began to lose their appeal as dancers such as Isodora Duncan took to European stages naked. There were also those who began to question the authenticity of Mata Hari's background. Her heyday lasted from 1905 to 1912. As she approached 40, Mata Hari's support increasingly came from being a courtesan rather than a dancer.

Because Mata Hari had taken many highly-ranked soldiers as lovers, notably French and German officers, French officials decided to keep track of her comings and goings. Her former fame had also allowed her a ticket to countless embassy parties over the years. As World War 1 escalated, this raised suspicions that she was still in contact with some of her international lovers and that she had to be spying for one or more of them. Mata Hari was immediately put under 24 hour surveillance.




The French eventually found the proof they needed to arrest Mata Hari as a spy, but whether it was real or fabricated is still being argued. Many believe she inadvertently caused her own downfall when, during her initial interrogation, she revealed a German spy number, H.21, that only a real spy could know. She further implicated herself by offering to spy on the Germans for French Intelligence. Unfortunately her desperate tactics did not work and she was arrested and put on trial.

The military court found her guilty; their sentence was death. During the remaining months of her incarceration, Mata Hari was alternately hopeful of a last-minute reprieve and utterly depressed. The last photographs taken of her show a woman who is weary, anxious, and sad.




The end came for Mata Hari early in the morning of October 15, 1917. She had not been informed in advance of the date of her execution because, when France had the death penalty, it was considered more humane for the condemned to not know the precise date.

Two kindly nuns who had come to be fond of the prisoner in her months of incarceration attempted to comfort her. She composed herself and told a nun, "Don't be afraid, sister. I shall know how to die."

She was executed by a French firing squad on October 15, 1917. Refusing a blindfold or to be bound to the stake, she blew a kiss to the 12-man firing squad before they shot their rifles.

No one claimed her body so her corpse was taken to a medical school to be used by students there for study on the dissecting table.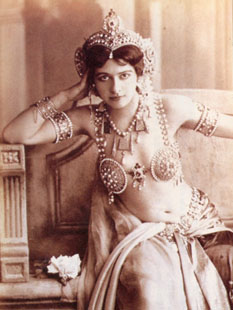 She swore until the end that she was not a spy and would never have betrayed her adopted French homeland. Whether she was indeed a cunning and manipulative woman with only her own interests in mind or a victim of French Intelligence is still unclear, although some recently unearthed documents indicate she may have been an unfortunate scapegoat. Whatever the case the name Mata Hari remains synonymous with female seduction and betrayal.

In the years following Mata Hari's death, she became a legend. She has been portrayed onscreen by Greta Garbo, Marlene Dietrich, Sylvia Kristel, and Jeanne Moreau.

A portrait of Greta Garbo as Mata Hari

Movie poster: