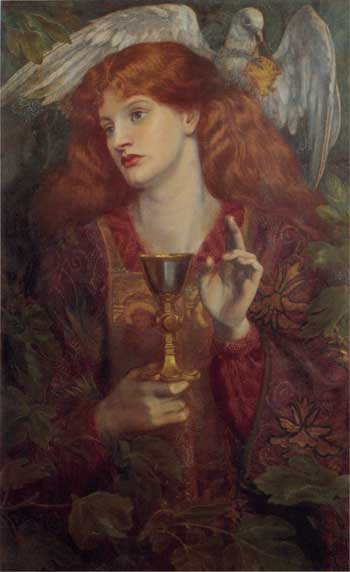 Elizabeth Siddal is the pale woman with long luxurious hair who sits, sleeps, dreams, and combs her hair in so many of Dante Rossetti's drawings and paintings.



To the three artists who founded the PreRaphaelite Brotherhood (PRB)—William Holman Hunt, Dante Gabriel Rossetti, and John Everett Millais—Elizabeth Eleanor Siddal was the epitome of aesthetic womanhood. Her mournful beauty appears time and again in their luminescent portraits. In John Everett Millais's "Ophelia" she lies amidst the grassy water plants, "her clothes spread wide and mermaid-like."




It was Walter Deverall, honorary artist of the PRB, who discovered Elizabeth Siddal when he was looking through the window of a hat shop. Introducing her to his fellow artists, Elizabeth's sensual full lips, heavy lidded eyes and, above all, her waist-length auburn hair, soon placed her much in demand as their model. But the intense demands placed on her by the three artists nearly killed her.

While posing for Millais's "Ophelia," Siddal had floated in a bathtub full of water to model the drowned Ophelia. Millais painted daily into the winter with Siddal modeling. He put lamps under the tub to warm the water. On one occasion the lamps went out and the water slowly became icy cold. Millais was absorbed by his painting and did not notice. Siddal did not complain. After this session she became very sick and never fully recovered.



Photo of Elizabeth Siddal

But it is with Gabriel Dante Rossetti that Siddal's name is forever entwined. Rossetti was completely taken with her, and the attraction proved mutual. She became his lover, then subsequently his wife in 1860. But Siddal's continuing ill health and Rossetti's predilection for sexual experimentation outside of their relationship caused trouble in their marriage.




After two years of increasing marital stress, Rossetti arrived home one day to discover his wife dying. She died of an overdose of laudanum (an opium tincture) after the stillborn birth of their child. Officially listed as an "accidental death," rumors of suicide were widespread.

Distraught with grief, Rossetti buried his unpublished poems in his wife's coffin, wrapped up in her long hair. Seven years later, Rossetti's artistic and literary reputation had begun to diminish, due in no small part to his increasing addiction to whiskey and chloral, an hypnotic sedative. Charles Augustus Howell, Rossetti's literary agent, in an attempt to bring his client back into public eye, suggested to Rossetti that the love poems which lay with his dead wife demanded a wider audience and, as no copy existed, the originals should be retrieved from Siddal's grave.

Though Rossetti initially resisted, Howell was persuasive and with an Exhumation Order signed, Siddal's grave was opened after dark. Rossetti stayed at home but those who were present said that Elizabeth looked as if in life, her features perfectly preserved. It was reported that her hair had continued to grow after death and filled the coffin.




The manuscripts were taken from her, disinfected and dried by a doctor, and transported to Rossetti. He regretted his actions. Rossetti published the old poems with his newer ones; they were not well received by some critics because of their eroticism, and he was haunted by the exhumation through the rest of his life.

Siddal's face looks out from some of the most famous paintings of the Victorian Age; she was the principle model and muse of the Pre-Raphaelites. Nearly a century and a half since her death, controversy and legend have long overshadowed Siddal's own work as an artist and poet.

With the mainstreaming of feminist criticism, Siddal's artwork has again been exhibited and received much critical reevaluation.

In contrast to Rossetti's idealized paintings, Siddal's were harsh. This is evident in her single oil painting, a self portrait. Her self portrait shows much about the subject, but certainly not the floating beauty that Rossetti painted. The painting shows, through her own eyes, a beauty who was idealized by so many famous artists.



Self-Portrait by Elizabeth Siddal

Growing up poor and female, Siddal had no access to artistic training, yet she blossomed in Bohemian company, producing Romantic drawings and paintings which won Ruskin's praise and patronage. She showed a great talent in her ten year career. Ruskin even helped support her artistically for a period before she and Rossetti married.

Siddal was deeply effected by literature, as were the other Pre-Raphaelites. She used images from Shakespeare, the Bible, and poets, especially Tennyson.

To Rossetti's credit, at a time when women's art was severely marginalized, he had genuine faith in Siddal's work and took great pains to promote it. Yet she died before her work matured, and little of it survives today.

Rossetti's sister Christina wrote the following poem, "In An Artist's Studio," about Siddal:

One face looks out from all his canvases,
One selfsame figure sits or walks or leans;
We found her hidden just behind those screens,
That mirror gave back all her loveliness.
A queen in opal or in ruby dress,
A nameless girl in freshest summer greens,
A saint, an angel; --every canvas means
The same one meaning, neither more nor less.
He feeds upon her face by day and night,
And she with true kind eyes looks back on him
Fair as the moon and joyful as the light:
Not wan with waiting, not with sorrow dim;
Not as she is, but was when hope shone bright:
Not as she is, but as she fills his dream.