"The Thief of Souls"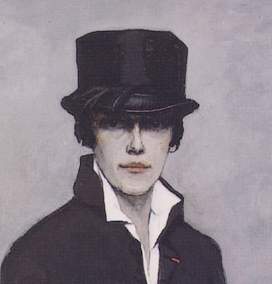 Romaine Brooks was born Beatrice Romaine Goddard on May 1, 1874, in Rome, Italy, to wealthy American parents. Her mother divorced her father before Brooks was born. Her family life was bitter and she was not raised in a loving environment. Her mother was emotionally distant and abusive, forbidding her to even draw, though Brooks managed to do it in hiding. Her brother, emotionally unstable and suffering from a form of insanity, received most of the attention from their mother.

Brooks was raised primarily in boarding schools. At at the age of 21 she sued her mother and won an annuity that allowed her to study in Italy from 1896 to 1899.




Afterwards she opened a studio on the island of Capri and married John Ellingham Brooks in 1902, who was himself gay. The marriage was one of convenience as he tried to hide from the sort of retribution that had befallen Oscar Wilde when he went to prison for his homosexuality in 1895.

In 1905, after leaving her husband with a generous stipend, Brooks cut her hair, donned men's clothes, and went to Paris, where she began painting the portraits for which she became renowned. There she established herself with other American expatriates, European aristocrats, socialites, artists, literary writers, and the gay community.

Between 1911 and 1914 she was romantically involved with the Russian dancer and actress Ida Rubenstein and painted her repeatedly in a series of Weeping Venus portraits.



Weeping Venus, Ida Rubenstein

Her inherited wealth freed her from the need to please her portrait sitters: she didn't care whether she sold her works or not. Her uncanny ability to depict the truth in people's appearances led her to be called "the thief of souls."

Many of her paintings were almost harsh in their honesty - dark, muted colors in grays and stark reality. A famous anecdote tells that one fashionable lady complained, upon seeing her portrait, "You have not beautified me." To which Brooks replied, "No, but I have ennobled you."



Portrait of Lady Una Troubridge

"My dead mother gets between me and life," she would say in 1958. It would be this inner conflict, probably touched by the same emotional problems her brother and mother suffered, which would tinge her life and work. Never was she more painfully honest than in many of her self portraits.



Self Portrait

In 1915 Brooks met and fell in love with the writer and salon patroness Natalie Barney, and they began a relationship that would last for fifty years.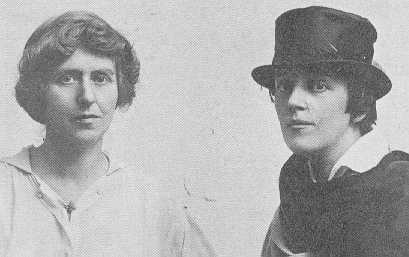 Natalie Barney and Romaine Brooks

Brooks' portrait of Barney called "L'Amazone" is considered to be one of her signature pieces.



L'Amazone

Together they collaborated on a novel, "The One Who Is Legion, or A.D.'s After-Life," which was privately printed in London in 1930 with illustrations by Brooks.

Over the years Brooks painted many of the famous lesbian habitues of Barney's salon, including Barney as an Amazon and Lady Una Trowbridge, lover of Radclyffe Hall.

In 1920, Brooks was awarded the medal of the Legion of Honor from the French government. Never particularly fond of the salon life, during the mid-1920's Brooks withdrew from the fashionable world of Parisian society.

She and Barney built a house together near Beauvallon - actually, two separated houses connected by a common dining room. They called it the Villa Trait d'Union, the "hyphenated villa," and this architectural detail tells us much about their relationship: they were often physically apart but emotionally connected, despite Barney's many affairs over the years.




Although many of her peers were doing abstract art, she held to a representational style, exploring the subject of female identity within European social circles. She was especially intrigued by the role that external appearances of dress and manners played in sexual identity.

Her career reached its height in 1925 when she held exhibitions in the three major cities: London, Paris, and New York. But by the 1930s Brooks, who had largely associated herself with the leisure classes, found herself growing alienated by socialist and communist leanings that underscored the wake of World War I. She left Paris for Italy, the land where she felt most at home, and found herself among Fascist Mussolini and his sympathizers.

As a result, her work fell out of favor to many and was almost completely forgotten. As she grew older she became more reclusive and spent more of her time on drawing than painting. She would write her autobiography "No Pleasant Memories," which was never published. She eventually retreated to her home in southern France where she lived to age 96, dying in 1970.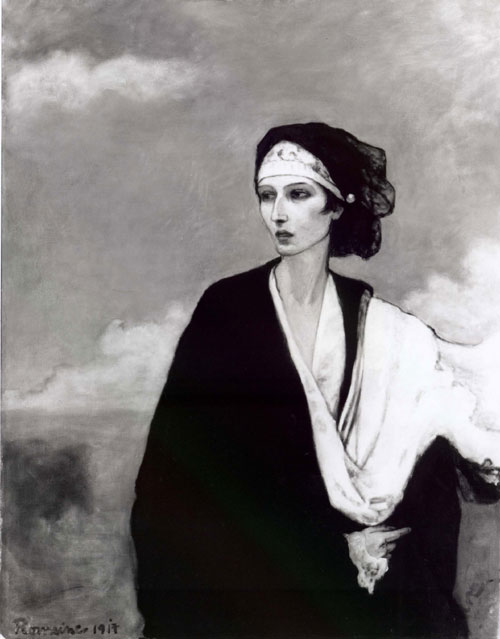 Portrait of Ida Rubinstein

Brooks had never made much effort to gain exposure in the United States, but with the encouragement of Barney, she had sent many paintings and drawings to the National Collection of Fine Arts in Washington D.C. In 1971, a retrospective of her work was held there. In 2000, a major retrospective of her work was held at the National Museum of Women in the Arts in Washington DC.


Romaine Brooks galleries