"The truth is how you say it, and to be 'one's self'
is the most shocking custom of all."





Djuna Barnes was born in New York in 1892. Her wealthy and free-spirited father, Henry Budington Barnes, was an unsuccessful painter who ran a farm on Long Island. Barnes was raised by her mother Elizabeth, a violinist, and her suffragist grandmother. She was home-schooled because her father believed that the public school system was inadequate, and her only formal schooling (at the Pratt Institute) came after she left home and moved to New York City.

Through her father and grandmother, Barnes gained a great appreciation of and dedication to the arts (the Barnes home was often frequented by such artistic greats as Jack London and Franz Liszt). In 1909 she was "given" in marriage by her father to his second wife's brother, a situation which deeply upset her.

She left home almost immediately after the marriage and headed for Greenwich Village, where she supported herself by writing features for several New York dailies. She wrote campy articles with titles like "How the Woman in Love Should Dress" and "What Is Good Form in Dying? In Which a Dozen Dainty Deaths Are Suggested for Daring Damsels."




When she was living in Greenwich Village she had affairs with a number of notable women, including teacher and editor Jane Heap and the sculptress Berenice Abbott.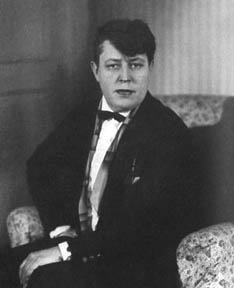 Jane Heap

Barnes's first book of poetry was published in 1915 as a collection entitled "The Book of Repulsive Women." Around that time, Barnes met and fell deeply in love with the poet Mary Pyne, who died in 1919, and to whom she dedicated a cycle of poems in "A Book" (published in 1923).



It is not gentleness but mad despair
That sets us kissing mouths, O Khalidine,
Your mouth and mine, and one sweet mouth unseen
We call our soul...
(from "A Book")



Barnes started to drink heavily, and she was hospitalized several times in New York.

In 1919 Barnes moved to Paris. There she found both an international writing community and a dynamic lesbian community. She became heavily immersed in the modernist scene in Paris where she befriended such beneficial patrons as Natalie Barney and Peggy Guggenheim. This circle of women, which included writers such as Mina Loy and Gertrude Stein, became known as "The Academy of Women." (better known now as "The Literary Women of the Left Bank.")




Barnes wrote a satirical work, "Ladies Almanack," which she printed and sold privately, about this salon and the women who were a part of it. It was arranged by month and was illustrated with the author's own drawings. "Ladies Almanack" was banned by the US customs.

While living in Paris Barnes met and lived with the sculptress Thelma Wood for ten years.



Thelma Wood

After Thelma Wood's return to the USA in 1930 and Barnes's final decision to leave her in 1931, Barnes travelled widely. She had many affairs (including some heterosexual ones). She lived with Romaine Brooks, a woman painter, for decades.



Self Portrait by Romaine Brooks

Barnes's experimental work is characterized by malevolent characters, dark humor, and decadent flavor. Her most famous novel, "Nightwood" (1936), a stream-of-consciousness narrative, has become a cult classic. It was rejected by American publishers but finally accepted by Faber & Faber after T.S. Eliot's recommendation.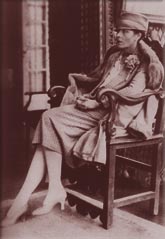 "Nightwood," her masterpiece, was about the doomed homosexual and heterosexual loves of five damned characters. In the background of the novel was the author's affair with Thelma Wood.



"A man is another person - a woman is yourself,
caught as you turn in panic; on her mouth you kiss your own.
If she is taken you cry that you have been robbed of yourself."



After "Nightwood" Barnes produced only one major work, a surrealist verse play called "The Antiphon." The subject was incestuous family relationships.




Barnes returned to the United States in 1932. There, chronically ill and relatively poor, she wrote little and lived a reclusive life in her apartment on Patchin Place in Greenwich Village, where she died in 1982. Two works were published posthumously.



"Growing old is just a matter of
throwing life away back; so you finally forgive
even those that you have not begun to forget."



In 1961 she was elected to the National Institute of Arts and Letters. In spite of feminist interest in Barnes's work, she is still called the unknown legend of American literature.